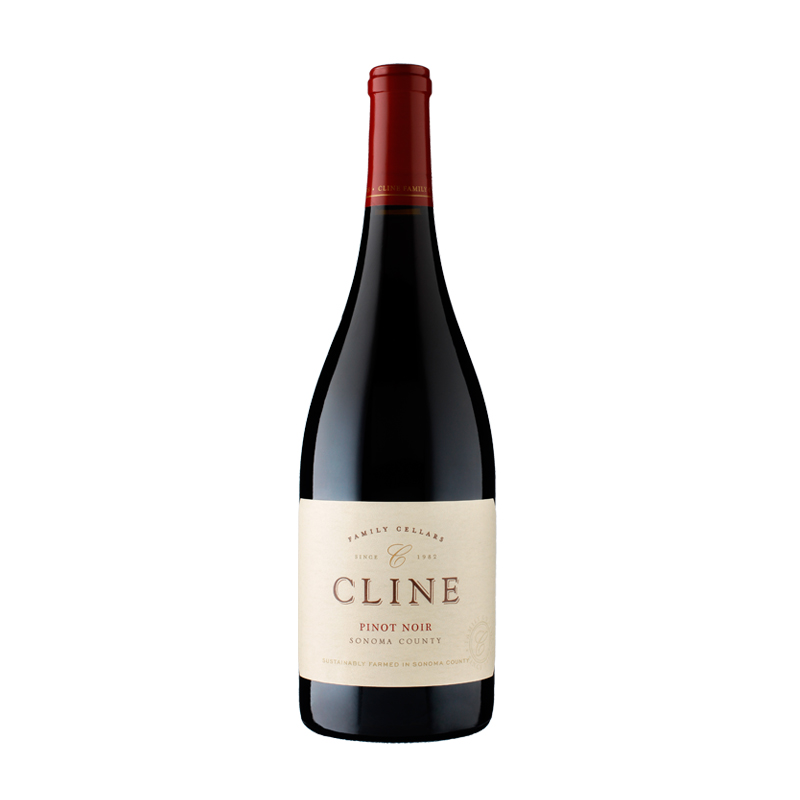 克萊恩索諾瑪黑皮諾紅酒
Cline Sonoma County Pinot Noir
NT$ 1400
About this wine
索諾瑪縣是種植世界級黑比諾的最佳地區之一。大約 20 年前,克萊恩家族是索諾瑪縣南部種植黑比諾葡萄藤的早期先驅。 Fred Cline 選擇的位置得益於從太平洋穿過佩塔盧馬鎮到聖巴勃羅灣的沿海山區間開口處。在夏季,葡萄藤會經歷霧濛濛的早晨和涼爽的夜晚,並在陽光普照下午 得到溫暖的 平衡。這些生長條件可使葡萄水果 於藤樹上吊掛得更為持久,即成熟和完全成熟,增加了明亮的酸度和濃郁的風味。葡萄被去梗後 並直接泵入不銹鋼發酵罐。依著本土酵母 從而開始發酵。由葡萄固體組成的"蓋子"每天被抽兩次以提取顏色和味道,然後在乾燥後立即壓榨。葡萄酒在不銹鋼罐中沉澱,然後在 40% 的新法國 中度烘烤橡木以及少量美國和東歐橡木桶中陳釀 5-10 個月。
Sonoma County is one of the finest regions for growing world-class Pinot Noir. The Clines were early pioneers in southern Sonoma County planting Pinot Noir vines almost 20 years ago. The location that Fred Cline selected, benefits from a coastal mountain opening that spans from the Pacific Ocean, through the town of Petaluma and on to the San Pablo Bay. In summer, vines experience foggy mornings and cooling evenings balanced by sun-drenched warm afternoons. These growing conditions allow the fruit to hang longer, fully ripen and mature which adds bright acidity and intense flavors. Grapes were destemmed and pumped directly to stainless steel fermentation tanks. Indigenous yeast is relied upon to begin fermentation. The "cap" which is made up of grape solids is pumped twice a day to extract color and flavor, then pressed shortly after dryness. The wine settles in a stainless steel tank, and then racked and aged for 5-10 months in 40% new French medium- toasted oak, in addition to a small amount of American and Eastern European oak.
資 訊
年        份:2020
莊  園:Cline Family Cellars
產  區:加州Sonoma County
葡萄品種:Pinot Noir 100%
酒精濃度:14.5%
風味搭配
品酒筆記:顏色:中等紅寶石色;香氣:覆盆子、櫻桃、新鮮草莓;身體:中等到飽滿;酸:清新平衡;單寧:很好的融合和順滑;口味:覆盆子、黑巧克力、紫丁香和雪松;尾韻:複雜而持久。
試飲溫度:10°C~12°C
佐餐食物:這款酒是羊肉、鴨肉或紅燒肉等食物的理想伴侶。
Tasting Notes:   Color: Medium ruby; Aromas: Raspberry, cherry, fresh strawberry; Body: Medium to full; Acid: Fresh and balanced; Tannins: Well integrated and smooth; Flavors: Raspberry,   dark chocolate, lilacs and cedar; Finish: Complex and lingering.
Pairings:  This wine makes an ideal companion with foods like lamb, duck or braised meats.
獎 項
紅酒評分:93 from James Suckling