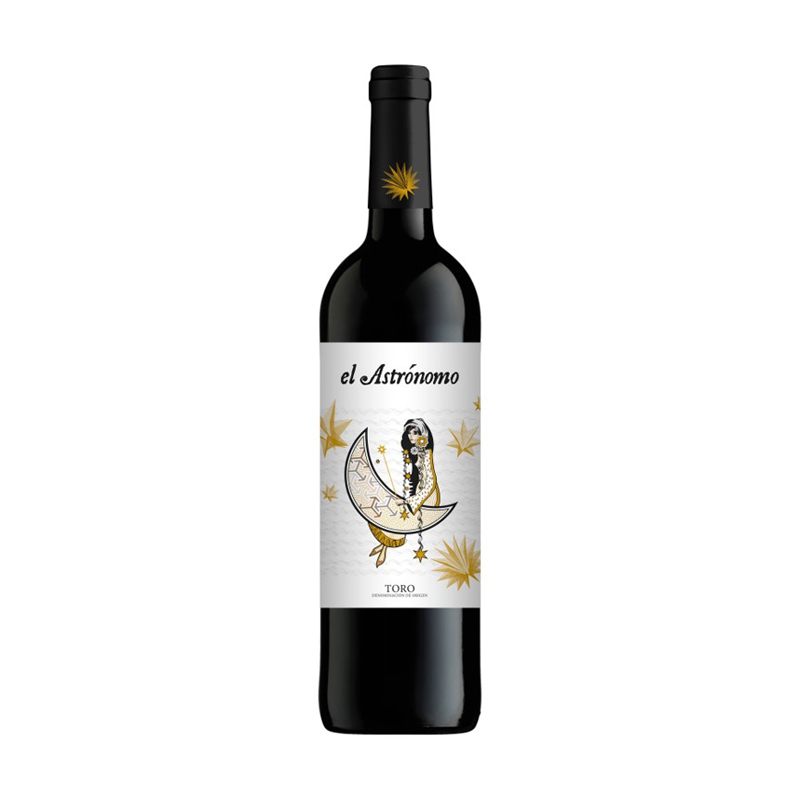 About this wine
永恆在你手中這是月亮女神賽琳娜代表女權和母親的特質,她是天空的女王 在她夜間的旅程將我們的夢想和希望結合 葡萄酒是她魔力的果實, ElAstrónomo讓月亮拉近你我之間的距離。
荖藤30~50年、美國及法國橡木桶12個月、酒瓶陳化36個月
el Astronomo is produced in the protected region of Toro is located in the Northern center of Spain, at an altitude between 600 and 750 meters above sea level. The climate is continental Mediterranean with rigorous winters; with less than 400 mm of rain a year the climate is desert-like. Soils are brown with a sandy texture, poor in organic substances and low content in mineral salts.  The Toro region has preserved very old, extraordinary quality vineyards. Most grapes are still grown as individual bush-vines.
資 訊
年        份:2012
酒        廠:TomeVinos Selection
產  區:Toro DO, Spain
葡萄品種:Tinta de Toro 100% (Tempranillo clone indigenous to Toro DO)
酒精濃度:14.5%
風味搭配
酒  質:黑醋栗、黑梅、尤加利樹、薰衣草、丁香、香草、礦石味
試飲溫度:16°C~18°C
佐餐食物:烤羊肉 、羊排、西班牙海鮮飯
Tasting Notes:  A complex wine with concentrated flavors of black fruit (blackcurrant, black plum),   spices (eucalyptus, lavender, cloves, vanilla, and minerals (stone, flint).  This dry wine has   medium acidity & tannin, and full body.  This depth of flavors lingers in a rich, lush finish.
獎 項
2016 Decanter Worldwide – Bronze Medal (Decanter銅牌)

2016 Concours Mondial Bruxelles – SilverMedal

(Concours Mondial Bruxelles銀牌)